On Language & Literature:
A little history
of Technological Aesthetics
The tone and form of newspaper headlines, the copy-editor's headline-writing style still in practice today, was developed for fast, efficient, and practical use of the telegraph machine, after 1850.
Most US telegrams, back then, were fewer than 15 words.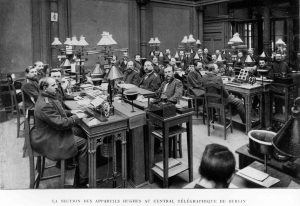 Fast-forward to the early 1980s, at the desks of the daily Gazette, in Freshwater, USA: We headline-writing copy-editors scrutinized The Wall Street Journal, whose headlines were sometimes brilliantly written, often with subtle humor.
For us, this was confirmation of intelligent life, deep in New York City.