From the Archive: Introduction
to a Community Discussion Guide
This is the Introduction to a community Discussion Guide 
for West Virginia: A Film History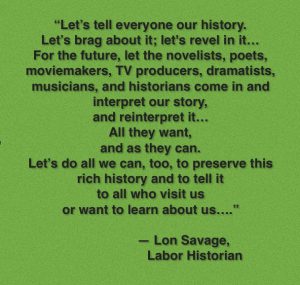 As Lon Savage suggests, there are many wonderful reasons for West Virginians — or other Americans, for that matter — to take interest in history of the Mountain State. Our state's story is filled with rich and dramatic events, involving characters as fascinating as any created in fiction. The richness and excitement of our state's history are what carried the creation of West Virginia: A Film History and this, the film's Discussion Guide.
In this book, you will find original material that defines moments in our state's history. The material carries understanding of issues and events that brought members of various communities (ethnic, economic, regional, social, etc.) into contact with others. In the boxes, you will find references to the exact sections of West Virginia: A Film History where these events are presented.
Each section of this guide is followed by questions that can be considered and discussed by your group. (You may also come up with discussion points of your own regarding the film or its subjects.) At the end, a bibliography makes suggestions for more reading in West Virginia history. Generally, we hope to encourage people to discuss questions of how and why the West Virginians of a particular time and place may have responded to their circumstances as they did.
Like the film, the discussion guide has four sections, each with a different theme:
Part I examines some of the ideas and attitudes held by early Virginians compared with those of native Americans.
Part II deals with events surrounding West Virginia statehood and the Civil War. The themes include: slavery, sectional differences between Eastern and Western Virginia, Northern and Southern differences, and the war in West Virginia.
Part III discusses the arrival of industrial development and technology in West Virginia, a discussion that is especially relevant today. Certainly turn-of-the-century West Virginians asked themselves about the benefits of industrialism, just as we are seeking answers about the value of our growing "computer culture." This section allows us to enter into a discussion of the advantages and disadvantages of fast-paced technological and economic change.
Part IV examines the positions of industry, labor, and government during the mine wars of the 1920s and thereafter. We will look at the role of the local authorities, of labor officials, and national political figures as they address work and living conditions in West Virginia. This form of public discussion is the essence of the humanities. It is the examination of a "text" – in this case, a film and Discussion Guide – that leads us to consider our individual and community roles within the larger tapestry of state and national history. The humanities consider the human condition by using the texts of history, literature, philosophy, and religion. Shakespeare's plays, Appalachian folk tales, Thomas Jefferson's letters, miners' reminiscences, Emily Dickinson's poetry, and Mother Jones's speeches… all are texts that give us a glimpse of where we've been, how we got here, how our experiences are vastly different or surprisingly similar and, possibly, of where we are going. At the West Virginia Humanities Council, we work to provide these opportunities for West Virginians. Hence, we developed this study guide.
Vital to our study of the humanities – to our understanding of our state and its history – is the participation of West Virginians themselves. Of extreme importance to these discussions are the state's community historians, the genealogical researchers, the teachers and librarians who ferret out and share the stories of historical characters and the places in which they lived. The local historians and the communities they serve comprise the principal audience which we, at the Humanities Council, are trying to reach with West Virginia: A Film History and this Companion Guide. The guide, in fact, was developed with substantial assistance from community researchers, working in partnership with history educators and professional archivists. It was developed to offer a resource to those who share an interest in our state's history and who want to discuss issues presented by West Virginia: A Film History. The Humanities Council hopes that West Virginia: A Film History and this Discussion Guide will help local groups arrive at a better understanding of the questions and issues that have helped shape and distinguish West Virginia and its people. Further we hope this examination will encourage West Virginians, as Lon Savage suggests, to "revel in," "brag about," and "tell everyone our history."
(Topper Sherwood for the West Virginia
Humanities Council, ca. 1998.)